Can I Lose My Teaching License After Misconduct Allegations?
July 15, 2022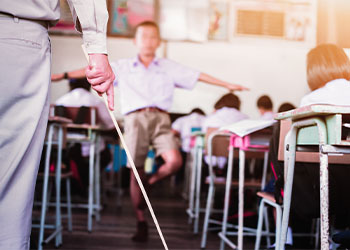 According to research by USA Today, over 800 teachers throughout California have been disciplined for misconduct since 1990. In California, teachers – including professors and educators – may have their licenses revoked for a variety of reasons, including breaking a rule, unprofessional conduct, sexual misconduct, child abuse, or neglect. If you're a teacher accused of educator misconduct, hiring a highly-skilled California criminal defense attorney is crucial for proper guidance.
At the Alec Rose Law Office, I have devoted my career to defending and representing teachers in educational institutions throughout California who have been wrongfully accused of misconduct. As your attorney, I can attempt to evaluate and investigate all of the surrounding facts of your case and help craft a powerful defense strategy to fight your charges and protect your teaching license. My firm proudly serves clients across Los Angeles, Ventura, Orange, San Diego, and San Bernardino County, California.
Types of Misconduct Allegations Against Educators
Educator misconduct involves any act that causes direct harm to students, or that is considered detrimental to the education profession. Some common examples and types of misconduct allegations against educators and teachers include:
Sexual Misconduct
Sexual misconduct involves a range of unwelcomed sexual behavior or acts committed without consent or by coercion, intimidation, force, or threat. Examples of sexual misconduct include sexual harassment, sexual assault, stalking, unwanted sexual touching, and stalking.
Abuse
Abuse involves inflicting physical injury upon a child or student other than through accidental means. Abuse may result in bodily injuries, such as bruises, burns, head injuries, or internal injuries, to the victim.
Neglect
Neglect by an educator can be described as the maltreatment of a child or student under circumstances that indicate or threaten harm to the child's welfare or health. This may also include the willful neglect of any professional duty or failure to report a child neglect instance.
If you're accused of educator misconduct, you need to reach out to a practiced criminal defense lawyer immediately. Your lawyer can inform you about the nature of the allegations against you and determine the best course of action.
What to do If You Are Accused of Misconduct
If you are accused of educator misconduct, here's what you should do:
Do Not Agree To a Hearing
When the school's administrative officers receive a complaint of misconduct, a proceeding may be initiated against the accused party. However, do not request or agree to a hearing. In most cases, the local Board of Education will only conduct a limited investigation or inquiry into the allegations. Without a thorough investigation, a record of misconduct may be issued, and sanctions may be offered against you.
Gather Evidence and Facts
An educator misconduct allegation puts your teaching license and reputation on the line. To clear your name and get your license reinstated, you need to convince the officers that you're innocent of the allegations. Gather comprehensive evidence, facts, as well as positive letters attesting to your character. All these will constitute a significant part of your defense.
Hire an Attorney
Additionally, retain an experienced criminal defense attorney immediately to review every aspect of your case and determine your best defenses. With your teaching license, personal reputation, and career at risk, it is imperative that you act fast. Your defense counsel can enlighten you about what to expect and prep you extensively for the misconduct hearing.
Possible Defenses
Depending on the surrounding circumstances of your case, your attorney can help fight your misconduct allegations by:

Providing effective information on every legal phase of the hearing.

Preparing you extensively for the hearing or interview with the administrators or investigators.

Ensuring the school adheres to its procedures, protocols, and policies addressing misconduct hearings.

Crafting an effective defense strategy for your unique situation.

Negotiate with the school's counsel in pursuit of the most favorable outcome
An experienced California criminal defense attorney can fight diligently to protect your rights and help you avoid the devastating consequences of being found guilty of educator misconduct.
Turn to Knowledgeable Legal Guidance
Sexual misconduct, abuse, or neglect accusation may cause your teaching certificate to be suspended or revoked. However, trying to defend any of these educator misconduct allegations without experienced guidance or representation could jeopardize your career or result in the worst possible situation. Therefore, hiring an experienced criminal defense attorney is essential for detailed guidance and to advocate for your best interests.
At the Alec Rose Law Office, I'm committed to offering authentic representation and knowledgeable legal advice to educators facing sexual misconduct or child abuse allegations. As your legal counsel, I can evaluate every aspect of your case thoroughly and strategize an effective defense for your unique situation.
Facing sexual misconduct allegations can be scary. Don't face it alone. Contact my firm – the Law Office of Alec Rose PC – today to schedule a simple case assessment with a knowledgeable criminal defense attorney. I possess the detailed legal counsel and effective representation you need in your case. My firm is proud to represent clients across Los Angeles, Ventura, Orange, San Diego, and San Bernardino County, California